Assisted and traditional pedal bicycles: the new shared mobility service allows you to immerse yourself in the city's beauty in a way that is simple and innovative.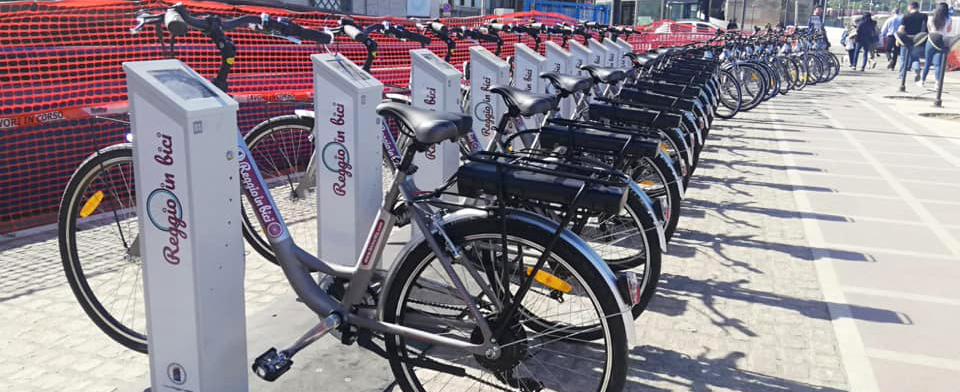 Reggio in Bici
They immediately renamed it the "sweet revolution", wanting to emphasize its important value in terms of urban sustainability and environmental impact. Reggio Calabria thus welcomed the beginning of the bike sharing service, the shared mobility system that allows citizens and tourists to move easily on two wheels around the city centre.
The Italian Ministry for the Environment, Land Protection and Sea launched this initiative, called "Reggio in bici", in the framework of the national experimental program dedicated to sustainable mobility between home and school, and home and work. It is a new program strongly desired by the municipal administration and by the Department of Transport, which makes getting around the city even more efficient and fun.
Ten "traditional" stations are spread from the north to the south (Santa Caterina, Università, Porto, Ospedali Riuniti, Museo Magna Grecia, Castello Aragonese, Duomo, Stazione centrale and Cedir), allowing pedal assisted bicycles to be used, which are very convenient when facing the many steep climbs that characterise Reggio Calabria's historic centre, along with conventional bicycles that are ideal for those who are well-trained.
Accessing the service is extremely easy and intuitive thanks to the practical "BicinCittà" app that allows you to unlock the bicycle with your smartphone in just a few simple clicks.
Emotional experience
Bike sharing in Reggio Calabria, however, proposes something more than a simple mobility service, widening its view to include the emotional experience that is gained by pedalling along the city streets. Just think of the route that leads from the port to the central station: about 2.5 kilometres of authentic bike riding with one's gaze focused on one side of the Strait of Messina and the majestic scenery of Etna, and the lush green that crosses the "Italo Falcomatà" waterfront on the other.
Moreover, the routes between Piazza Duomo, Castello Aragonese, and Piazza Italian can be particularly suggestive. We are in the most lively and authentic part of Reggio, as well as the strip that includes the institutional headquarters for the region, historical remains, shopping on the city streets, and the endless walking paths.
One must, without a doubt, make a stop at the Museo Magna Grecia station. It is a crucial junction for those who want to enjoy a view of the sea, taste the typical delicacies of Reggio in the many places located in the area, and last, but not least, those who want to be captivated by the magnificence and treasures kept in the Monumental Piacentini Palace, including the Riace bronzes, masterpiece sculptures of Greek art, and undisputed symbols of the city. For more information on memberships, please consult this site: Reggio in Bici