Hidden at the foot of the Aspromonte, the MuSaBa di Mammola is a museum park filled with contemporary art that is developed around the remains of an ancient 10th century monastic complex. Its unprecedented mix of ancient and modern art draws visitors into an immersive and sometimes surreal encounter, which deserves to be experienced.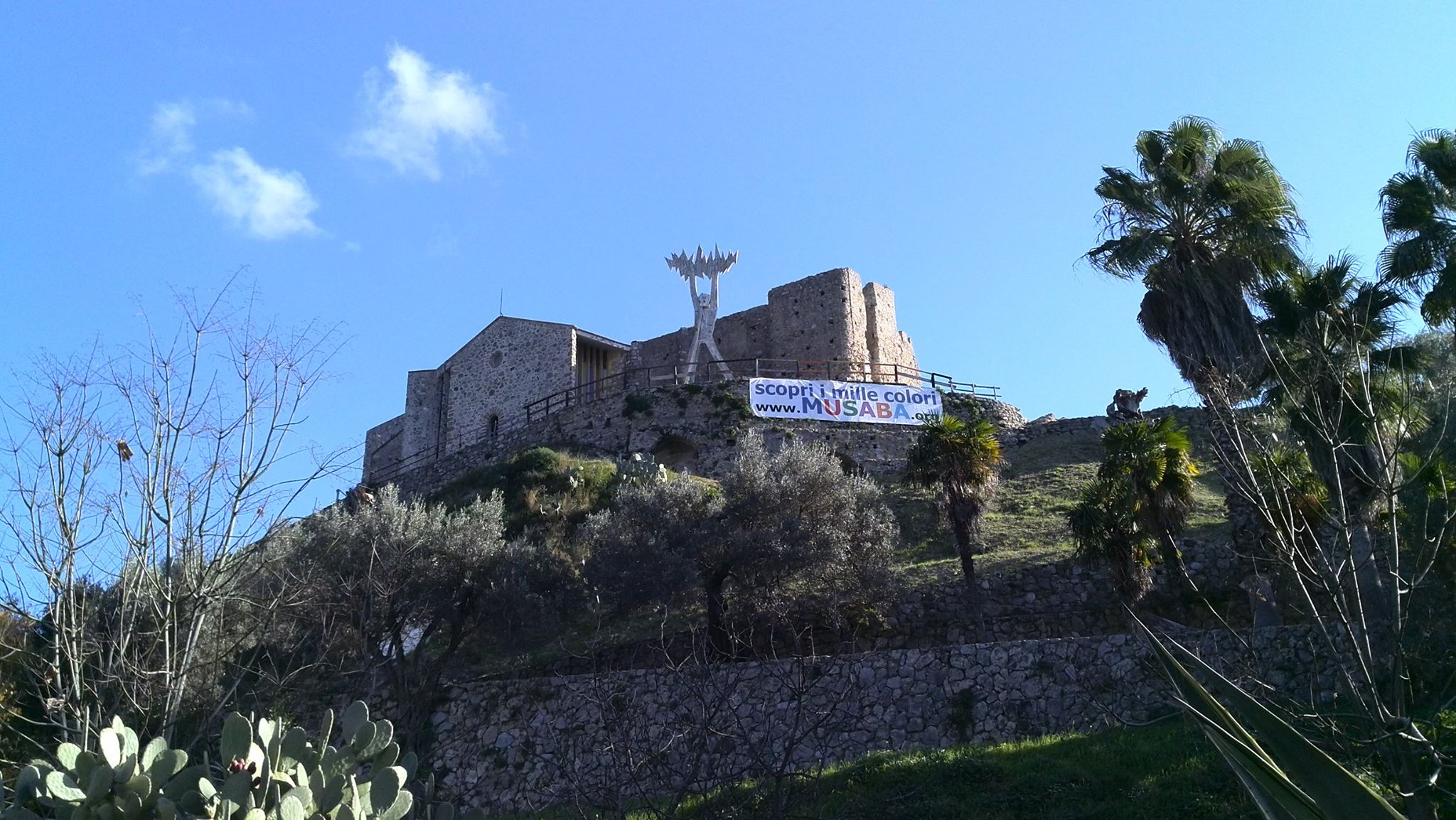 Fruit of the genius of two visionary artists
Nick Spatari and Hiske Maas: these are the names of two artists, who, at the end of the 1960s, after having married and produced prestigious collaborations with world-famous contemporary artists, decided to give new life to an abandoned place in the heart of Locride, rendering it a place of artistic experimentation, where new frontiers of technique, matter, form, and colour are transmitted and shared. In this way, the MuSaBa was born.
DID YOU KNOW THAT …?

During the "Parisian Period", Nik Spatari was a friend and collaborator of famous artists and thinkers such as Picasso, Le Corbusier, Jean Cocteau, Max Ernst, and Sartre.
An open-air museum
An area extending over seven hectares, perched on a hill, which winds between the ancient monastic complex of Santa Barbara, features, from the new museum wing "Rosa dei Venti," to the "Foresteria," with its cover of hyper coloured mosaics, to the Cloister, with its thousand square metres of external walls that act as a support for a continuously evolving mosaic laboratory. It is a creative construction site that welcomes works by international artists, as well as students, bohemians, and volunteers who contribute to continuously enriching it. The creations of Nik's exuberant and eclectic genius are at the centre: monumental works, site-specific installations, mosaic decorations in which the symbols of Christian tradition intertwine, from the Old to the New Testament and stylistic elements from the Sumerian past, to Gilgamesh, and the Great Flood, all filtered in a dreamlike, psychedelic, and non-conformist way.
The Calabrian Sistine Chapel
A giant 14-metre three-dimensional painting, which covers the entire vault and apse space of the ancient abbey of Santa Barbara, represents Sogno di Giacobbe ("Jacob's Dream"). It is the fruit of Nik Spatari's "creative, restless, and heretic" spirit, straddling between 1991 and 1995. The technique used to create it is an invention made by Spatari himself: the silhouettes are cut out of sheets of light wood, painted and then applied as reliefs suspended in the air.
38.359279057381,16.236526966095
You might be interested in