The repeated excavations that were carried out between 2000 and 2005 in the south-eastern area of Piazza Italia have shone light on a site of considerable historical and archaeological interest, which shows that the area has always been at the centre of the city's commercial activities. Eleven phases of construction are in fact recognizable in the space of six metres, spanning from the Greek age, to the early 19th century.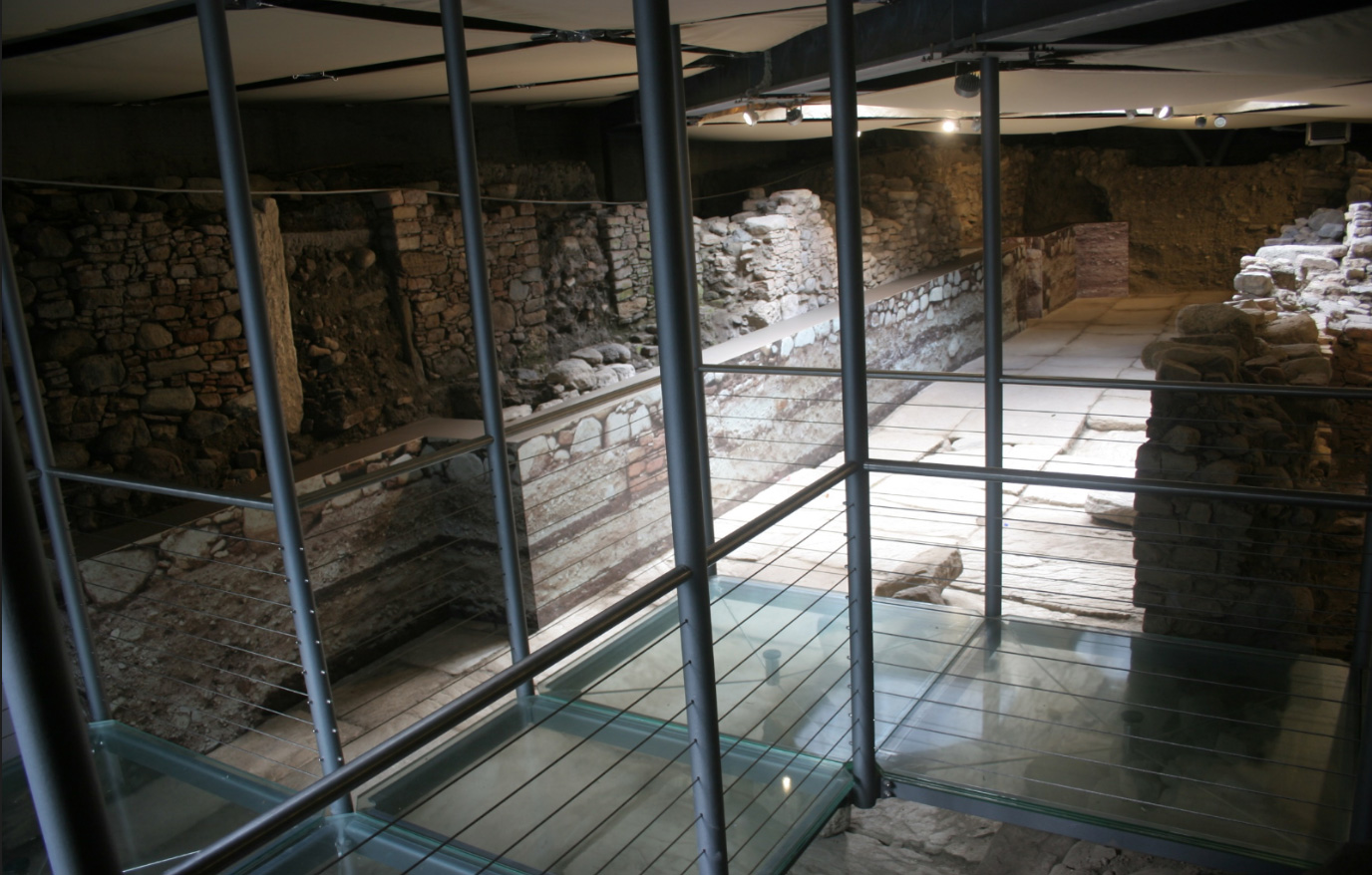 The Underground Piazza Italia
From its origins to the Roman era
In the deepest layer, which dates back to the Greek-Archaic period, fragments of ceramic and cobblestone walls with an orthogonal design were found, in accordance with the aforementioned route from the Roman period. It is precisely to the Roman period that the four rectangular rooms can be traced, one of which still preserves the original cocciopesto flooring and whose walls are characterized by a double construction phase, with the overlapping of different materials, perhaps due to the damage from the earthquake that struck Reggio in mid-fourth century AD.
DID YOU KNOW THAT …?

In the deepest layer, a wall of considerable size was found, which is thought to belong to a large temple. To confirm this hypothesis, at about 4 metres of depth, a metal mass of about two metres can be identified that most likely made up one of the statues from this ancient place of worship.
From the Byzantine to the Norman period
The influence of the Byzantine period (6th-10th century) is made evident through the discovery of coins, probably used in the context of maritime traffic under the Roman Empire, at sites that were most likely designated as commercial premises. A wall of about ten metres from the Norman period (11th-12th century) can be found that divides a complex subdivided into smaller rooms used as workshops for the processing of bronze and a whole series of discoveries, ranging from an assortment of ceramic tableware and a kitchen, to small ivory objects, to a vast coin collection, including a tarì coin with a caption in Arabic characters.
From the Angevins to the 19th century
There is an entire series of buildings from the Angevin period (14th century) that were designed according to the implant from the previous Greek era. These buildings have many rooms that were used as warehouses, most likely for commercial activities. Finally, the site's designation as a public place, more precisely as a square, can be traced back to the 19th century.
Opening days and hours
Due to the Covid-19 emergency, all visits are temporarily suspended.
Every day
10:30-12:30 / 17:30-20:30
Tickets
Free offer
Contacts
Tel.(+39) 366 1019145
e-mail: associazione.inside@gmail.com
38.108826450689,15.64413245
You might be interested in