The artisan ice cream in Reggio Calabria is nothing short of an art. The numerous ice cream shops around the city, specifically in the historic centre and on the waterfront, many of which have been awarded national prizes (the first prize for artisan ice cream in 2018 went to Reggio), offer an exceptional variety of flavours, including fruit and ice creams, as well as delicious "semifreddi" (semi-frozen) flavours. In the summer, many Reggio people like to dine with an ice cream cup, or a brioche filled with ice cream on the waterfront gazebo.
The secret with respect to the Reggio ice cream's goodness lies in its raw ingredients. The city's historic ice cream parlours use only quality ingredients and products typical of the area such as Bronte pistachio, Avola almond, Modica chocolate, as well as typical products from Reggio such as Annona, Bergamot, and citrus fruits (oranges, lemons, and clementine). For those who love cream, there is only the embarrassment of having to choose, and the Reggio ice cream producers compete every year to provide customers with new flavours.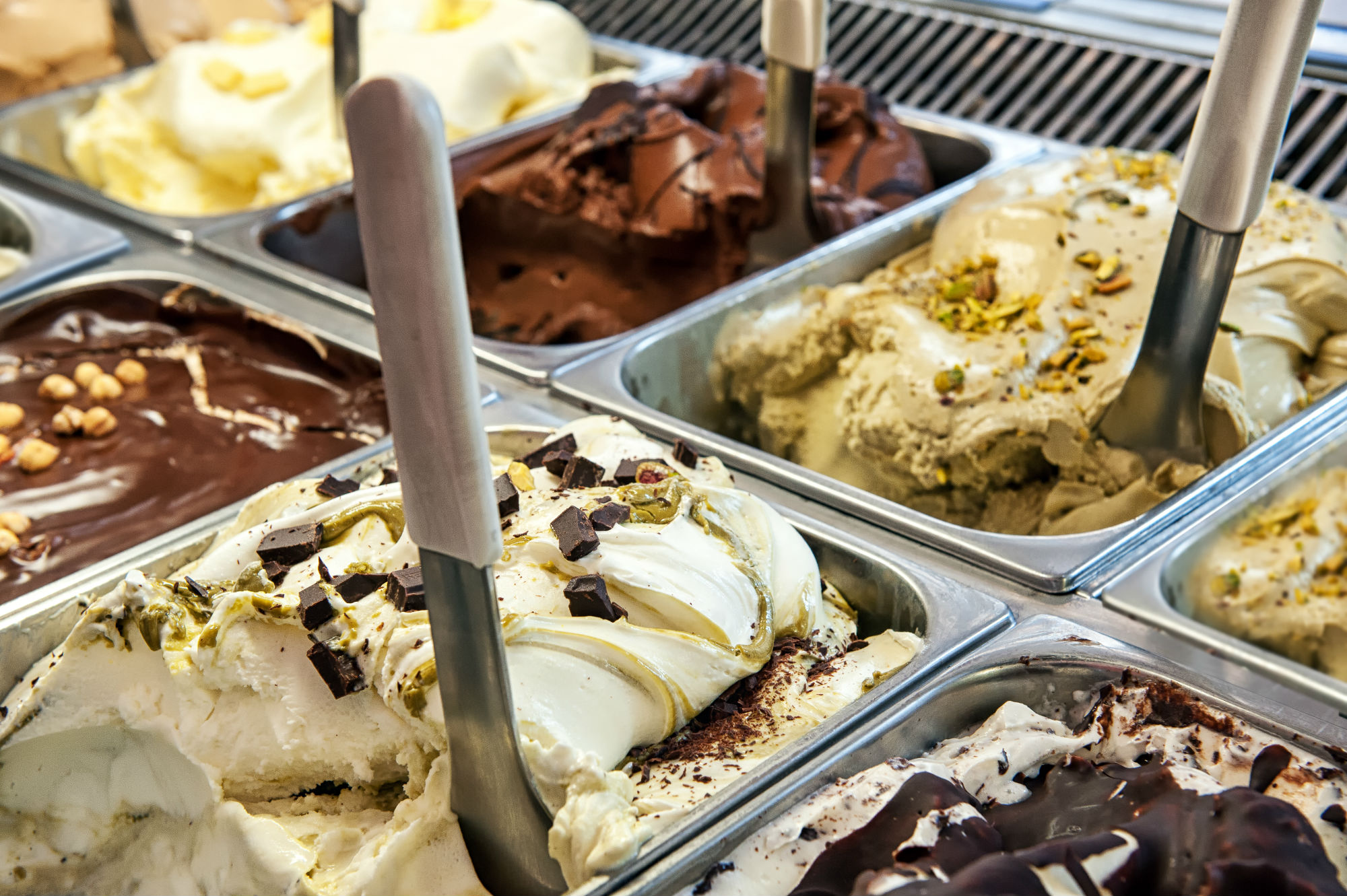 The artisan ice cream of Reggio Calabria
Reggio cream and bergamot ice cream
Among the cream-based ice creams, a typical local product stands out: Reggio cream. It is a pink-coloured cream that is produced from a base of milk and sugar, and is enriched with candied fruit, chocolate, and other ingredients. According to tradition, it is a variant of custard, but is consumed mainly as ice cream.
The bergamot ice cream has been the prince of artisan ice cream shops for some years now in Reggio. With a slightly sour, yet fresh and thirst-quenching taste, it is ideal on Reggio hot summer days.
Ice cream even in the winter: the "semifreddo" (semi-frozen) dessert
"Semifreddo" (semi-frozen) ice cream can be enjoyed during the mild seasons. It is an artisan product that has the same reputation as ice cream (so it's just a matter of taste). Born in the courts of Belle Epoque as a dessert, the semifreddo is now a flagship product of the artisan ice cream shops in Reggio. During the processing of the semifreddo, a greater quantity of air is absorbed than with ice cream, which gives it that characteristic softness and lightness. Ingredients such as cream, eggs, and milk, make it a food rich in protein. As with artisan ice cream, semifreddo is produced in fruit and cream varieties.
A specialty that is uniquely Calabrian: the "Tartufo di Pizzo" (the truffle of Pizzo)
Among all the ice creams, the famous "Tartufo di Pizzo" must also be counted. It is a homemade hazelnut ice cream, rigorously formed by hand, which hides inside of it a heart of melted dark chocolate covered with cocoa powder or grains. Although this is the traditional truffle, today it is produced in different varieties (white, pistachio, etc.). Pizzo Calabro truffle is the first in Europe to have been awarded the IGP title. You can find it in all the ice cream parlours around Reggio, but it is obvious that the best place to taste it is where it is produced, in Pizzo.
DID YOU KNOW THAT …?

In Reggio Calabria in 2018, the first Festival of Artisan Gelato was held, which takes the name of "Scirubetta" from the Arabic word "Sherbet", which means fresh drink, and is the oldest ice cream in history.
You might be interested in